Each object can be expanded to show outgoing references to other objects that are retained by this object. In this way, you can recursively expand the tree of retained objects (also called a "dominator tree") that would be garbage collected if the one of the parents were to be removed. The information displayed for each object in this tree is similar to the outgoing reference view, except that only dominating references are displayed.

Not all dominated objects are directly referenced by their dominators. For example, consider the references in the following figure: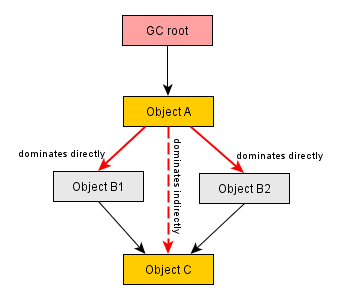 Object A dominates objects B1 and B2, it does not have a direct reference to object C. Both B1 and B2 reference C. Neither B1 nor B2 dominates C, but A does. In this case, B1, B2 and C are listed as direct children of A in the dominator tree, and C will not be listed a child of B1 and B2. For B1 and B2, the field names in A by which they are held are displayed. For C, [transitive reference] is displayed on the reference node.
At the left side of each reference node in this tree, a size bar shows how many percent of the retained size of the top-level object heap are still retained by the target object. The numbers will decrease as you drill down further into the tree. In the view settings, you can change the percentage base to the total heap size.
The dominator tree has a built-in cutoff that eliminates all objects that have a retained size that is lower than 0.5% of the retained size of the parent object. This is to avoid excessively long lists of small dominated objects that distract from the important objects. If such a cutoff has been performed, a

cutoff child node will be shown that notifies you about the number of objects that are not shown on this level, their total retained size and the maximum retained size of the single objects.